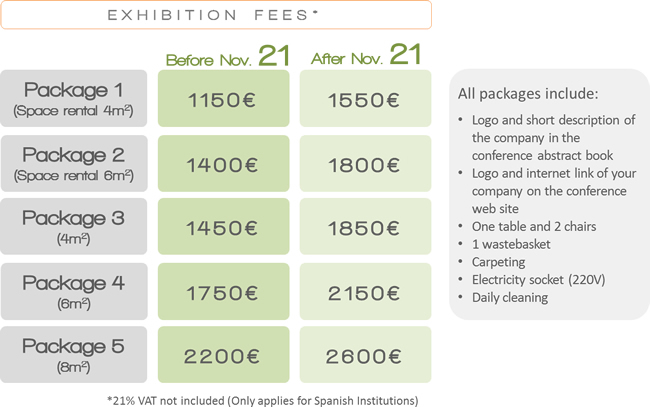 Package 1 (Space rental) 4 m2 exhibition area 1150 Euros

- A 2.00 m x 2.00 m exhibition space
- Full entrance to the conference for ONE person, including the conference dinner


Package 2 (Space rental) 6 m2 exhibition area 1400 Euros

- A 2.00 m x 3.00 m exhibition space
- Full entrance to the conference for ONE person, including the conference dinner



Package 3 (Exhibition Booth) 4 m2 stand 1450 Euros

- A 2.00 m x 2.00 m exhibition booth with resistant panels
- Company name on ramp
- Full entrance to the conference for ONE person, including the conference dinner


Package 4 (Exhibition Booth) 6 m2 stand 1750 Euros

- A 2.00 m x 3.00 m exhibition booth with resistant panels
- Company name on ramp
- Full entrance to the conference for ONE person, including the conference dinner

Package 5 (Exhibition Booth) 8 m2 stand 2200 Euros
- A 2.00 m x 4.00 m exhibition booth with resistant panels
- One table and 2 chairs, plus one meeting table and 2 chairs.
- Company name and logo on ramp
- One brochure rack
- Full entrance to the conference for TWO person, including the conference dinner

NOTES:
- If you wish to insert a flyer on participant's bags add 400€.
- If you wish a booth bigger than 8 m², please contact the organizers: info@nanopt.org

Cancellation policy Exhibitors
Your payment less 20 % of the chosen package rate will be reimbursed if a cancellation is received before November 21, 2016.
50% of the registration fee will be reimbursed, if a cancellation is received between November 22 and December 21, 2016.
No reimbursement will be made after December 21, 2016.
All cancellations should be made in writing by e-mail to Antonio Correia (info@nanopt.org).
 Invoicing
Invoices will be sent on behalf of a legal person (university or company) without VAT (except Spain). If an invoice is requested by a natural person, the VAT should be added.
Payment must be made in Euros by credit card or bank transfer through the registration system (all bank charges and commissions must be paid by the participants). Please note that your invoice will be issued in Euros. A confirmation e-mail will be sent to you after a successful registration. If you encounter any troubles, please contact  the conference organizers at info@nanopt.org.
The invoice will be issued using the billing details provided on the registration online form, so please ensure to provide the correct information: institution/company name, address and VAT number.

Spanish VAT (21%) is applicable on all conference registration fees to individuals, EU institutions without valid VAT number, Spanish institutions/companies (Business transaction subject to article 69/70 of Spanish VAT Law).