All packages include:
- Logo and short description of the company in the conference abstract book
- Logo and internet link of your company on the conference web site
- One table and 2 chairs
- 1 wastebasket
- Carpeting
- Electricity socket (220V)
- Daily cleaning


Package 1 (Space rental) 4 m2 exhibition area 1150 Euros

- A 2.00 m x 2.00 m exhibition space
- Full entrance to the conference for ONE person, including the conference dinner


Package 2 (Space rental) 6 m2 exhibition area 1400 Euros

- A 2.00 m x 3.00 m exhibition space
- Full entrance to the conference for ONE person, including the conference dinner



Package 3 (Exhibition Booth) 4 m2 stand 1450 Euros

- A 2.00 m x 2.00 m exhibition booth with resistant panels
- Company name on ramp
- Full entrance to the conference for ONE person, including the conference dinner


Package 4 (Exhibition Booth) 6 m2 stand 1750 Euros

- A 2.00 m x 3.00 m exhibition booth with resistant panels
- Company name on ramp
- Full entrance to the conference for ONE person, including the conference dinner

Package 5 (Exhibition Booth) 8 m2 stand 2200 Euros
- A 2.00 m x 4.00 m exhibition booth with resistant panels
- One table and 2 chairs, plus one meeting table and 2 chairs.
- Company name and logo on ramp
- One brochure rack
- Full entrance to the conference for TWO person, including the conference dinner

NOTES:
- If you wish to insert a flyer on participant's bags add 400€.
- If you wish a booth bigger than 8 m², please contact the organizers: info@nanopt.org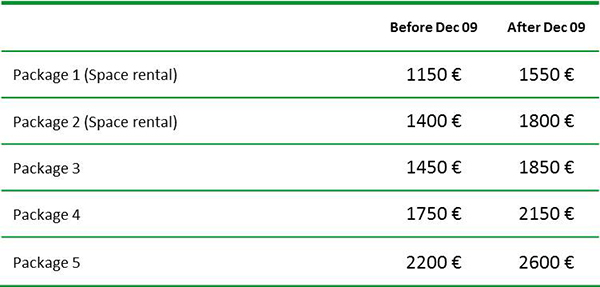 Cancellation Policy

CANCELLATION OF CONFERENCE PARTICIPATION

All cancellations should be made in writing by e-mail to Antonio Correia (info@nanopt.org).

Cancellations made between November 22 and December 13, 2013 will qualify for a full refund less a 50€ administration fee, plus credit card charges if applicable.

Any cancellation made between December 13 and January 17, 2014, will qualify for a 50% refund.

No refund will be issued for cancellations made after January 17, 2014.